What is 311 Caribbean Cruise 2013?
On 3-1-13, it's 311 Caribbean Cruise, Round 3!

311 Caribbean Cruise 2013 is setting sail March 1-5, from Miami to Great Stirrup Cay for another private island adventure in the Bahamas!

We'll be sailing on a new ship - the luxurious Norwegian Pearl. The Pearl is the perfect place for unity - there are various intimate venues and gorgeous spots to relax, bond and celebrate with your 311 family. Join a ship full of passionate 311 fans for sun & fun - heading towards an unforgettable 2-day private island party! During the 4-night cruise, you will see three 311 concerts & you and your cabin-mates will get a personal photo together with the band. There will be 311 themed activities and games throughout the cruise, and you'll get to chill on the sandy white beach for two whole days, surrounded by your closest friends while jamming to the sounds of 311 & other great bands & DJs. We're not leaving the music on the island - the ship will be rocking all day & night, so you'll have plenty of opportunities to catch some great shows!

311 loves these cruises and can't wait to see you onboard!

Please note, there will not be a 311 cruise in 2014, so be sure to get on board the 311 Caribbean Cruise 2013!

How does the Waiting List work?
The 311 Caribbean Cruise 2013 is sold out. However, we often have cancellations and we have a Waiting List to determine who gets offered those cabins. To join the Waiting List click here.

When signing up for the waiting list, you will be asked what type of cabin you want and how many people you would like to put in your cabin. You will be required to put down a $199 deposit that is NON REFUNDABLE, except in the event we do not have a cabin for you by January 4, 2013. This means that we will refund your deposit if we cannot accommodate your cabin request by January 4, 2013, but you will forfeit your deposit if you decide to take yourself off the list before that time.

After January 4, 2013 we will send an email to everyone still on the waiting list asking if they would like to remain on it. If you would like to take yourself off of the waiting list at that time, you may do so and receive a check for the full refund of your deposit.

FIRST AVAILABLE - If you chose "First Available – Waiting List First Available", you are committing to take any type of cabin that matches your selected occupancy that may come available, including suites.
Please contact us if you have any further questions about the waiting list.
What does the price of 311 Caribbean Cruise 2013 include?
THE PRICE OF YOUR ROOM INCLUDES:
Round trip cruise from Miami to Great Stirrup Cay, Bahamas
Cabin for 4 nights with a two day private island party
All meals onboard and on the island (there's gourmet fare in the formal dining rooms, casual indoor and outdoor grills open for meals throughout the day and 24-hour room service).
Non-carbonated beverages (i.e. tea, juices, coffee).
Every guest will get to see 311 perform 3 Concerts
Live music on Great Stirrup Cay including a 311 beach Show!!
Photo with 311 of you and your cabinmates
Shows from support bands & DJs
Awesome 311 inspired onboard activities, games, & theme nights
Free entrance to hot spots like the ship's disco and casino.
Use of Norwegian Pearl's amenities such as: health & fitness center, 4-lane bowling alley, rock climbing wall, full sized basketball/volleyball/tennis court, video arcade, Nintendo Wii on a 2-story screen and more!
Norwegian Splash Academy and Entourage facilities and activities if you're bringing children.
Taxes, port charges and ticketing are added at check-out and pre-paid by you ($195.00 per person)

NOT INCLUDED ARE:
Gratuities ($12.00 per person, per day will be charged to your onboard spending account to cover tips for your cabin stewards & all waiters, etc - this fee is charged on board & is standard on all cruises).
Travel Insurance (available through Sixthman)
Gambling.
Spa.
Alcoholic beverages.
Soft drinks & bottled water. (However, cards are available for a low price which get you unlimited soft drinks throughout the cruise.)
While many restaurants on board are FREE, some Specialty Restaurants you choose to go to require a cover charge. (Pricing for each can be found here.)
Any alcoholic or carbonated drinks, shore excursions, or tours in the Port.
Airfare to/from Miami
Ground Transportation
How does admission work?
Each guest will get to see 311 perform three shows over the 4-day cruise; two shows on the Pool Deck (the kick-off Sail Away show on Friday and an evening show on Monday) plus a special Beach Party show on the island on Sunday! All three of these 311 shows are general admission.
Shows by all the other bands & DJs will also be general admission so you can come and go as you please.
When you first booked your cabin, we asked you to choose a 311 show (show 1 or 2) and a zone - as a backup plan, just in case a Pool Deck show needed to be moved indoors due to bad weather. After review, we have decided that we will not ticket the indoor theater as the backup plan scenario. In the rare case we need to shift one of 311's shows due to weather, we are dedicated to making up the show outdoors. Sixthman will ensure that guests get to see 311 perform three shows.
How do I make a reservation?
Placing a reservation is easy! You can book a cabin online by clicking Book Now, or over the phone by calling 877-379-9181.
PLEASE NOTE! Lead Passengers, if you or your guest(s) needs a Sixthman Username you can create one while booking. If you and your guest have Sixthman Usernames, have your guest add you as an Approved Lead Passenger in their account. You'll then see your guest in Your Authorized Guests list and you'll be able to add them as a guest in your cabin while booking!
Anyone who has traveled with Sixthman previously or signed up for the 311 Caribbean Cruise 2013 Pre-Sale has a username and will not need to create one. If you don't know your login credentials, you can recover them here.
What is the Independent Traveler Program?
If you are planning on joining us for 311 Caribbean Cruise 2013, but you haven't been able to find someone to go with you, don't worry - this is the program for you!

The Independent Traveler Program (ITP) allows you to book a cabin and only be responsible for your half of the cabin (plus the standard taxes and fees of $195.00). However, by signing up for the ITP, you agree to (potentially) be paired with another guest who is also participating in the ITP. We will pair you based on availability (with the potential of not being paired at all). Full details can be found here.

Interested? Have questions? Please contact us at 311cruise@sixthman.net or call 877-379-9181 for this unique opportunity!
How does travel insurance work?
Sixthman offers you a leading travel insurance plan through our partnership with Travel Insured International. Travel Insured specializes in providing quality coverage and superior customer care and claim service to our Sixthman passengers. When you add our plan to your trip, you protect yourself from your policy's effective date through your return home. Your prepaid trip costs are protected against Trip Cancellation or Interruption due to an unforeseen accident or illness to you, your traveling companion or a family member. You also receive Emergency Medical Protection, Baggage Protection, Travel Accident Protection and Worldwide Emergency Travel Assistance available 24/7 during your trip.
Remember that sometimes unwelcome events occur to disrupt great trips:
You are protected, up to full trip cost, if bad weather causes your common carrier to cease operating for 24 hours or more.
Illness or injury to you or a traveling companion or immediate family member causing you to cancel or interrupt your trip.
Missed Connection coverage can pay your expenses (up to $500) to rejoin the cruise or tour when you miss the departure due to a three-hour or more flight delay.
Emergency Medical Expense covers you if you need treatment in a foreign hospital for a sudden illness or accident. We guarantee your admission!
Trip Cancellation can cover terrorist events, a job layoff (if employed for 1 or more year) or jury duty.*
Assistance will be there if you lose medications or a passport, or need help canceling lost credit cards.

This coverage must be purchased before your final payment due date. Coverage for all benefits except trip cancellation will begin on the departure date. The trip cancellation benefit will begin at 12:01 AM on the day after Travel Insured receives your application. For pre-existing conditions to be covered you need to purchase Insurance within 21 days of your deposit.
Travel Insured also offers Cancel For Any Reason 50% Protection (not available to residents of Minnesota, Missouri, or Washington State.) The Cancel for Any Reason option is only available when specifically requested on the original application and the appropriate premium has been paid. The Cancel For Any Reason benefit must be purchased within 21 days of your initial trip deposit. This benefit allows the insured to receive a refund of up to 50% of covered trip costs on reservations cancelled up to 48 hours prior to departure for any reason outside of the covered circumstances.
Download an Insurance PDF with more details about this Travel Insured program. Please Note: Residents of Washington, Indiana, New Hampshire, Minnesota, Missouri, and Pennsylvania have separate Description of Coverages in compliance with state requirements.
We know you might have questions about what is and is not covered so we encourage you to read the online brochure or call Travel Insured at 1-866-684-0218 and specify you are calling about Sixthman Travel Protection.
What is the official cancellation policy?
ALL DEPOSITS AND PAYMENTS ARE NON-REFUNDABLE. If you wish to protect your investment, we strongly recommend the purchase of travel insurance. We've teamed up with Travel Insured to offer two levels of insurance: a standard insurance policy and a Cancel for Any Reason add-on policy.
Travel Insured's standard policy will reimburse cancellations at 100% of monies paid for covered cancellation reasons.*
Travel Insured's Cancel For Any Reason add-on policy will reimburse up to 50% of monies paid when cancelling for any reason not covered by the standard policy when cancelled at least 48 hours prior to sailing.*

*To review both insurance coverage policy details, please click here. If you have cruise insurance and need to cancel for a covered condition, you can make a claim with Travel Insured to recover any lost payments.

See the Ticketing Contract for full details.
What type of identification will I need to board the ship?
These are recommendations based on the current U.S. government policy. (This information could be updated without notice.)
Sixthman highly recommends all guests travel with a passport (valid for at least six months beyond completion of travel). Although a passport is not required for U.S. citizens taking cruises that begin & end in the same U.S. port, travelling with a passport enhances your disembarkation experience, as delays may be expected upon your return to the U.S. if you do not have one. Additionally, passports make it easier for you to fly from the U.S. to a foreign port should you miss your scheduled port of embarkation, or need to fly back to the U.S. for emergency reasons.
The Western Hemisphere Travel Initiative (WHTI) allows U.S. citizens (including children) sailing on cruises that begin and end in the same U.S. port to travel with one of the following WHTI compliant document:
Valid U.S. Passport
Original or suitable quality copy of a Birth Certificate
Certificate of Naturalization
Passport Card
Enhanced Driver's License (EDL)
Trusted Traveler Program Membership Card, e.g., Nexus Card, Sentri Card or Fast Card
If you're traveling with a Birth Certificate, please click HERE to review what is accepted.
A government-issued photo ID is also required for all guests, including children 16 and over. For more information, a complete list of WHTI-compliant documents or to obtain a passport application, visit www.travel.state.gov.
For more information or to obtain a passport application, visit www.travel.state.gov.
If you are not a US Citizen, please call US Immigrations at 1-800-375-5283 to be sure your identification will be satisfactory.
Please note that the name on your ticket must match the name on your passport or you will need to provide an original copy of proof of change of name (marriage license, etc).
Will there be an official kick-off party?
If you're in Miami, the night before we set sail, come meet up with your fellow 311 cruisers for our official pre-party at Grand Central!!! This is a FREE event for 311 Cruisers. Must be 18+.
DRINK SPECIALS for 311 Cruisers at Grand Central:
$5 Pabst Blue Ribbon Beer all night
$5 Guiness Black Lager Beer all night
$8 Medalla Light Beer + a shot of Cabo Tequila all night
$8 Pabst Blue Ribbon Beer + a shot of Jameson Whiskey all night
2-for-1 Vodka drinks from 8-9pm
Tax & Tip is included in all of these specials.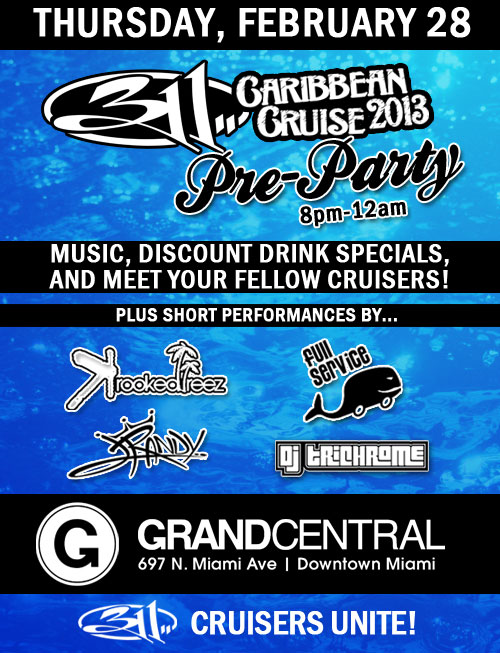 How do I get to the Port of Miami?
For directions check out our Port page.
What is the smoking policy on the Norwegian Pearl?
Public areas throughout all our ships are smoke-free. If you smoke cigarettes, you can do so on your balcony, in the casino or in the Cigar Bar (when available). If you prefer pipes or cigars, you can smoke in the Cigar Bar or designated smoking lounge. Also, you can smoke cigarettes, pipes and cigars outside on open decks, PORT side, (just not around food venues, sports decks, kids' pool areas and other designated nonsmoking areas). Smoking inside your stateroom will result in a $250 cleaning charge added to your onboard account.
What is the Photo & Video Etiquette?
Cameras are permitted everywhere on board, but please refrain from using your flash in any indoor venue. Use of audio recording devices or professional video cameras will not be permitted anywhere.