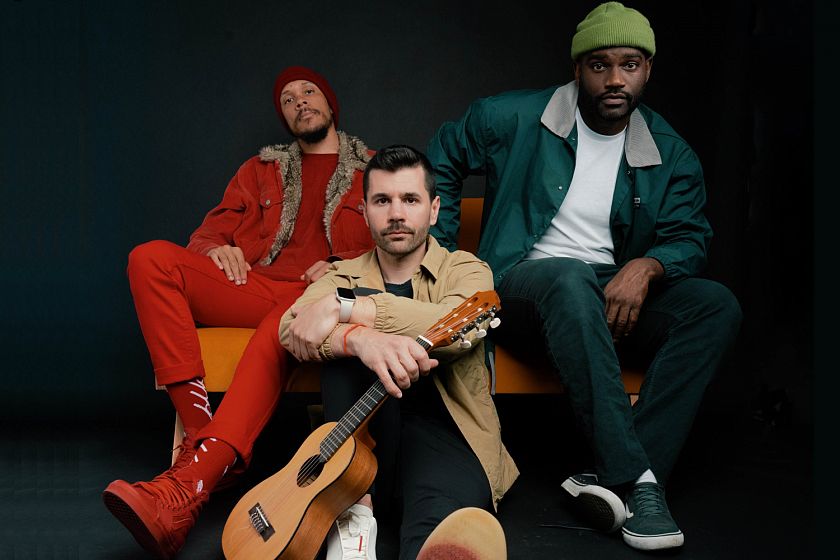 RDGLDGRN
RDGLDGRN
"How do you pronounce RDGLDGRN? Easy, it's just Red Gold Green. Clean and simple, no vowels, no fluff — just like the band's music." - Suraya Mohamed at NPR Music
The colorful, creative blaze that started as a spark during a bedroom jam session from a basement in DC suburb of Reston, Virginia now burns brighter than ever for genre surfing trio RDGLDGRN. What brought the three together in their teens from multicultural Northern Virginia is the common sense of optimism that with hard work, good ideas and flawless execution can lead American citizens of any race, creed or class to reach their dreams.
Since their debut eponymous album RDGLDGRN (Universal Republic, 2013) dropped, the band has integrated elements of hip-hop, rock and go-go music to concoct an original sound. Their backgrounds each play a part in the diverse sounds of their musical style. Each member of the band was raised in a different version of the immigrant's tale to find a better life on American soil. Pierre Desrosiers (a/k/a King Green, vocals) is the son of Haitian immigrants from the 1970s. Andrei Busuioceanu Jr. (a/k/a Gold, bass) arrived in America when he was 5 from Romania. Marcus Parham (a/k/a Red, guitars) is an African-American raised as global citizen attending high school in Ghana and lived extensively overseas.
The man behind that first spark needs little in the way of introduction. When Dave Grohl first encountered the band when he passed by the studio session for their "I Love Lamp" single, he was immediately sold on the charismatic kids from his hometown. He soon had connected with the band and joined them to record the LP's ten songs at storied Sound City Studios in LA. The album led to international touring and creative collaborations with Pharrell Williams ("Do It the Most"), Eminem & Method Man ("Caterpillar") and many others.
After the first record, RGG left the major label system to develop an independent, artistic vision through Deuce Day World, their label, both for music and fashion. On their two follow-up albums, (2017's RDGLDGRN Radio and 2019's RDGLDGRN 3, nods to Led Zeppelin's spartan album titles), the sophistication of King Green's original lyrics deepened and followed their journey across a variety of topics all pointed toward a living a better life: be it through love, success, international touring (punctuated by visits to see Green's family now living in South Africa), sportsmanship (soccer, of course), community service (teaching music workshops as much as possible while on the road) or simply dancing.
The band name is based on the three "Pan-African Colors" used most often on the flags of African nations, The members stick to this regimented palette for their clothes, seldom being
seen in public otherwise. "Our band name looks like gibberish, so it's not something that people remember instantly. To make it easier, we decided to stick to our brand." Red says candidly. King Green weighs in, "As a band, it's about us being individuals while being unified through colors. Being a color is our identity, it's the idea of us being self-actualized and knowing ourselves." Gold closes out the discussion with a laugh saying, "We're so deep into this shit that we don't even think about it. I don't understand people who aren't colors."
RGG's new releases promise to be their best songs yet. "Danger" featuring Brooklyn's hottest female lyricist Nitty Scott who chants the Portuguese hook "Essa Mina O Perigo/Her Name is Danger" and swaps a killer verse telling the story of a very seductive new friend of King Green. "Good Life" is an undeniable anthem (already licensed by EA's Sims 4 and translated into the Simlish language by the band) with a skippy cadence telling the band's story and vision of the carefree yet meaningful life they are working towards: a multicultural American Dream. "Surfing" shares the same sonic disposition as Good Life and goes further into a romantic direction imagining a world hopping whirlwind with a "lovely Wendy" flying from San Miguel, Mexico "till we never land."
For more information, please contact: Craig Walker
Devil Hills Entertainment craigwalker@devilhillsent.com