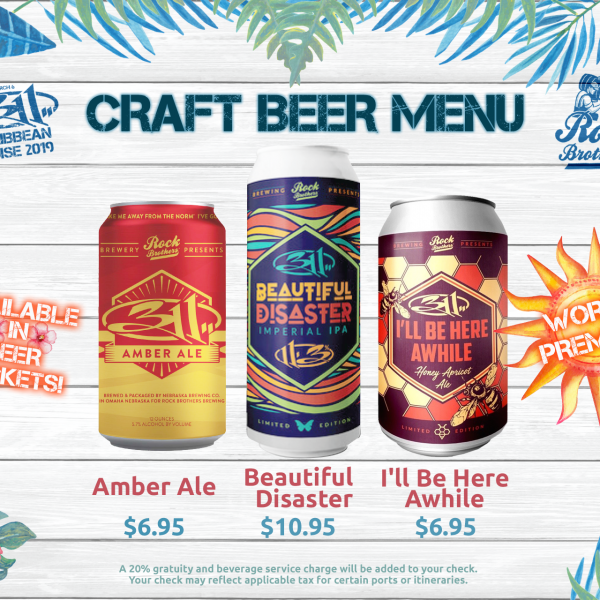 Thanks to
Rock Brothers
Brewing
, Norwegian Pearl will be fully stocked with 311 beer! We'll have 311 Amber Ale, 311 Beautiful Disaster IPA, and the brand new I'll Be Here Awhile Honey Apricot Ale on board!
All three beers are included in the beverage packages AND available for buckets of beer!
#ICYMI - Join us for a special beer tasting event with Rock Brothers Brewing!
Founder Kevin Lilly and head brewer Eric Wannemacher, plus P-Nut & SA of 311 will sit down to discuss what goes in to creating the beloved 311 beers and debut their latest addition, I'll Be Here Awhile Honey Apricot Ale. Space is limited to 100 pre-selected cruisers by lottery with nominal fee of $25 to participate in the beer tasting. Winners will be notified by email this week!


Flip Cup Update! We're excited to pour 311 Amber Ale in the Final Round, and Rock Brothers are gifting our winners a bucket of 311 Amber Ale on board PLUS a certificate to redeem a free case of 311 Beer and special gift set at their Tampa brewery once we're back on land!

311 Brews Happy Hour & Prizes - Head on out to the Pool Deck from 3:00-5:00pm on Saturday and Tuesday—if you've got a 311 Beer in hand, Rock Brothers will be handing out prizes! So grab a cold one and get some fun swag while you're at it!

311 Amber Ale Scavenger Hunt Alert! Be on the lookout for our five cans of 311 Amber Ale with labels on upside down—no it's not a mistake, it's a winner! If you're one of the lucky 5 to receive one of these cans, bring it to the Sixthman Info Desk (Atrium, Deck 7, MID) during open hours to receive a voucher for a free assorted 12 pack of 311 beer shipped to you after the cruise!

Rock Brothers Post Cruise Discount - Even after the cruise is over, Rock Brothers doesn't want the party to stop! Flash your 311 Cruise keycard at the Rock Brothers Tampa brewery for a special discount and take some 311 Beer home with you!