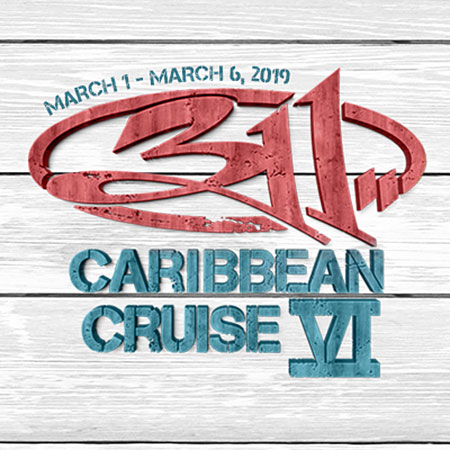 We've made a few updates and have exciting new additions to the
schedule
!
Here's the lowdown on some new fun times ahead!

NOW ADDED: Family Feud with Chad, Tim, & Friends!
We asked 100 brodels, "What is another name for "herb?"…And survey says….you're in for some laughs with this favorite 311 Cruise game!
Chad's team features Tony Hinchcliffe, Will Kubley of Passafire and Hoag of 2 Player VERSUS Tim's team featuring Matthew Roads of Tropidelic, Mike DeGuzman of Passafire, and Steve Ewing of The Urge PLUS 1 lucky Cruiser will join each team to round it out!
Enter your Sixthman username HERE by 11:59PM EST Friday, February 22nd
to be entered into the lottery for a chance to play! Winners will be notified by email the week of February 25th.
P-Nut & SA talk 311 Beer!
Join us for this special beer tasting event with Rock Brothers Brewing! Founder Kevin Lilly and head brewer Eric Wannemacher, plus P-Nut & SA of 311 will sit down to discuss what goes in to creating the beloved 311 Beers and debut their latest addition "I'll Be Here Awhile" Honey Apricot Ale.
Space is limited to 100 pre-selected cruisers by lottery with nominal fee of $25 to participate in the beer tasting.
Submit your Sixthman username HERE by 11:5
9PM EST Friday, February 22nd for a chance to participate. Winners will be notified by email the week of February 25th.
Bearded Brodel is back!
Any brodels with an award-winning beard out there? It's time to show off those whiskers! Nick & Ted of Passafire along with Hoag of Two Player and DJ Trichrome will be hosting the competition and interested contestants should show up 15 minutes prior to the event to check in with a Sixthman staffer at the Magnum's Stage. The twenty best looking beards will get to participate, and the audience will choose our next Best Bearded Brodel!
A special acoustic set in Spinnaker Lounge!
Ever wanted to know the stories behind some of your favorite songs? The Skints, Tropidelic, 2 Player, and The Norm are teaming up to play a few acoustic songs and discussing the true tales and inspiration behind the music. It's sure to be a nice trip down musical memory lane!
Cheers to our 6-Timers!
There are over 200 cruisers who have sailed on every 311 Caribbean Cruise! And we think that is worthy of a celebration. As a THANK YOU for being a founder in this community and trusting us with your vacation year after year we're hosting a 6-timer meet up in Spinnaker Lounge. Enjoy a 311 Amber Ale on us while mingling with your fellow cruisers! Plus have a chance to win 311 Prizes!
Your keycard with your alumni year will serve as your ticket for entry
.
More laughs for Wake N' Bacon Bingo!
Tony Hinchcliffe is joining his fellow comedians Brian & Doug on board for what is sure to be a hilarious game of Bingo!
We're also very excited to announce Full Service and Ghostwolf (acoustic) will each be performing a special set while on board!
Check out the latest schedule and get excited here! www.311cruise.com/schedule